Go Boldly Expo
Navigate Your World – & Beyond
Saturday, April 26, 2014

9 a.m. – 5 p.m. Riverside Hangar 750, St. Paul Downtown Airport 750 Bayfield Road, St. Paul, MN 55107

AirSpace Minnesota is bringing Dr. Buzz Aldrin (first moon landing) and Dr. Harrison "Jack" Schmitt (last Moon landing) to Minnesota to celebrate our innovation legacy and encourage a new generation to dream big, work hard and go boldly. They will be joined by astronaut Dr. Karen Nyberg, a Minnesota native who recently returned from the International Space Station, and Dr. John Olson of Sierra Nevada Corporation, former Assistant Director for Space and Aeronautics, Office of Science and Technology Policy in the Executive Office of the President.
Designed for students, educators and families, this free public event will help students imagine a future where they have the literacy and skills to achieve their dreams.
Main Stage Presentations (streamed to locations around Minnesota)
Past: Minnesota was the world's balloon (upper atmosphere) research capital and home of the Father of America's Human Spaceflight Program, which led to the Apollo Story.
– Dr. Buzz Aldrin & Dr. Harrison "Jack" Schmitt

Present: How today's innovations will change the way we live/work/play
– Dr. Karen Nyberg

Future: What's next – to the Moon, Mars or ??
– Dr. Buzz Aldrin & Dr. Harrison "Jack" Schmitt

Go Boldly Challenge Honoree Recognition – (Elementary/middle/high school, college & adult)
– Dr. Karen Nyberg
Book Signings (Dr. Buzz Aldrin & Dr. Harrison "Jack" Schmitt)
Public Viewing at the JMO
May 7, 2014
6:00 p.m. - 8:00 p.m.
During JMS Expo

***
Join us to view stars, planets, the Moon, constellations, and anything else we can find in space.
Weather is always an issue!
If it is cloudy or raining, viewings may be canceled. Check the website before coming.
Dress for the weather. The temperature of the dome is like that of the outdoors.
Email for a night you would like the JMO to be open.
See a map and more instructions below!!
______________________________________________________________________________________
_______________________________________________________________________________________________
Melissa Noble, 8th Grade Advanced ELA Teacher, has a student that won 1st place in a NASA essay contest!
8th grader Hannah Rhee won the contest!
Her essay was for the target of Saturn. She will have her essay published on the NASA website along with her picture.
See her essay online at:
http://saturn.jpl.nasa.gov/education/scientistforaday12thedition/winners2013/
Email form NASA:
Congratulations! You are receiving this email because one of your students is a national winner in NASA's 2013 Cassini Scientist for a Day essay contest!
As a prize, your class is invited to a special NASA videoconference where your students can ask questions to Cassini scientists.
Once again, congratulations to you and your students.

Best wishes,
The Cassini Outreach Team
NASA Jet Propulsion Laboratory
Pasadena, California
See here story on Channel 12 news (the last segment)
http://www.twelve.tv/news/newsitem.aspx?newsid=1431&newsitemid=23199
Jackson Teachers
Ms. Schendel and Mrs. McLellan
Present at 2014 NASA Conference in Houston
on using Reading Strategies with NASA Resources.
Then they had a chance to try out the Space Rover.
What's Up?
This week April 23-29, 2014

Stargazing Information from StarDate Online (http://stardate.org)
This Week's Stargazing Tip
April 23: Time Bombs
Several time bombs are in view this evening. The list includes most of the bright stars of Orion, which is low in the west, plus Spica, the brightest star of Virgo, in the southeast. All of these stars are destined to explode as supernovae.
April 24: Moon and Venus
Venus, the "morning star," perches just to the lower left of the crescent Moon at dawn tomorrow. As long as you have a clear eastern horizon you just can't miss them.
April 25: 61 Virginis
61 Virginis is one of the nearest star systems with known planets. Under dark skies, the star is bright enough to see with the unaided eye. It is a little below Spica, Virgo's brightest star, which is due south a couple of hours after sunset.
April 26: Beta Coma Berenices
Tonight, you can see a star that shows us roughly what the Sun would look like seen from 30 light-years away. That's how far it is to Beta Comae Berenices, a Sun-like star that's south of the Big Dipper's handle in the faint constellation Coma Berenices.
April 27: Loopy Planet
Bright orange Mars is high in the southeast at nightfall. Spica, the brightest star of Virgo, is close to its lower left. Mars is moving away from Spica, but soon will head toward the star as it completes its retrograde motion across the sky.
April 28: Distant Planets
The two most distant planets that are easily visible to the unaided eye bracket the sky late this evening. Jupiter, which is the brightest object in the sky at that time, is in the west around 10 p.m., with golden Saturn low in the east-southeast.
April 29: New Moon
The Moon is new today as it slips between Earth and the Sun, beginning a new cycle of phases. It will return to view as a thin crescent quite low in the west shortly after sunset tomorrow evening.
Lunar Phases
First April 7, 3:31 am
Full April 15, 2:42 am
Last April 22, 2:52 am
New April 29, 1:14 am
Times are U.S. Central Time.
The full Moon of April is known as the Egg Moon or Grass Moon.
ELA Class Interviews Astronaut from Minnesota,
Bob Cabana
Ms. Noble's class paid a visit to the JMO to interview Astronaut Bob Cabana. Mr. Cabana was born and grew up in Minnesota and is now the director of Kennedy Space Center!
Read more about it at:
http://www.anoka.k12.mn.us/education/components/whatsnew/default.php?sectiondetailid=233754&itemID=54037
Read more about Director Cabana at:
http://www.nasa.gov/centers/kennedy/about/biographies/cabana.html
Do The Math
7th grade math classes have been visiting the Observatory and learning about ratio and proportion. They have been doing a little activity called:
Honey, I Shrunk the Solar System!
Parking and Directions for a visit to the JMObservatory
Jackson Middle School Observatory
6000 – 109th Avenue N
Champlin, MN 55316
Latitude: 45.153552 and Longitude -93.353798
You need flashlights to walk to and from the JMO
Park on the east side of Jackson Middle School by the Community Pool. Park as close to door 15 as you can get. Then walk north, between the building and the tennis courts, to the track. Turn left or west and follow the track, past the portables, to the domed building. This is the JMO. Enter at the south door facing the school.
Scoop at the Scope
ST. PATRICK's DAY CME IMPACT: As predicted, a CME hit Earth's magnetic field at 0600 UT on March 17th. The impact sparked a moderately strong (Kp=6) geomagnetic storm that sent Northern Lights spilling across the Canadian border into the United States as far south as Colorado:

Taken by Cole Clark on March 17, 2013 @ Big lake,MN
______________________________________________________________________________

The first image above is Stellarium showing the position of Ceres. The above right is an image of an asteroid/Dwarf Planet called Ceres as seen in the JMO telescope on March 6, 2013 at about 7 PM.
The above images were taken by Paul Fusco
Image of Ceres Credit: Keck Observatory by C. Dumas (NASA-JPL)
The Dawn spacecraft ended its extraordinarily successful 2012 by smoothly continuing to thrust with its ion propulsion system to its 2015 rendezvous with dwarf planet Ceres.We will get close-up pictures at that time.
________________________________________________________________________________
The above is an image of an asteroid called Vesta as seen in the JMO telescope on January 9, 2013 at about 6 PM. The picture was taken by Paul Fusco. Above right is Stellarum showing the position of Vesta.
This is Vesta. This picture was taken by a camera on the NASA Dawn mission.
______________________________________________________________________________
This picture of the Moon was taken by Paul Fusco on December 4, 2012 at about 7 AM using the JMO telescope. Thanks Paul
COMET ISON, R.I.P.: Following its Thanksgiving Day brush with solar fire, sundiving Comet ISON is now just a cloud of dust. Among experts, a consensus is building that the comet broke apart shortly before perihelion (closest approach to the sun). In the picture, note how rapidly the comet fades just before it vanishes behind the occulting disk of the SOHO coronagraph: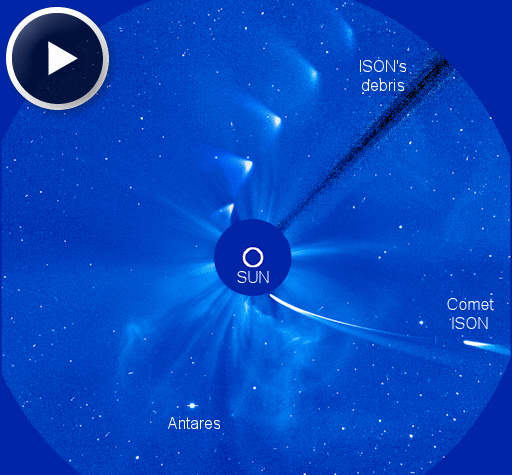 After perihelion, the comet emerges as a diffuse remnant of its former self. No one knows for sure what is inside that fan-shaped cloud. Possibilities include a small remnant nucleus or a "rubble pile" of furiously vaporizing fragments. By the end of the day on Nov. 28th, Comet ISON was spent.
As of Dec. 2nd, the cloud of debris is no brighter than a star of approximately 8th magnitude. Experienced astrophotographers might be able to capture the comet's fading "ghost" in the pre-dawn sky of early December, but a naked-eye spectacle is out of the question.
From: spaceweather.com
John Ziemer from NASA JPL
John Ziemer from NASA JPL, and a former Jackson Middle School Student, spoke with 61 current Jackson students today, March 2, 2012. Because of 21st century technology, students can make these kinds of real time connections with those who can inspire them to learn. Dr. Ziemer works on the electric engine at JPL in Pasadena California. This kind of event helps the students see what kind of possibilities could be in store for their future. Dee McLellan, coordinator of the Jackson Middle School Observatory, calls him the "Homer Hickam" of Jackson Middle School from the true story of the "Rocket Boys". He started his presentation with a few slides of old Jackson Jaguar logos, seen in the background of the pictures. This gave the 7th and 8th grade students from Mr. Waldoch and Mr. Pettman classes an immediate connection. These teachers explained how their students are shooting off rockets in the very same field behind the school next to the Observatory as John did many years ago. And now Dr. Ziemer works for NASA and is developing the newest type of rocket propulsion.
Checking out Saturn
________________________________________________________________________________________________
Here are some photos of the Moon from Public Viewing Night on August 4, 2011. About 18 people were there to see enjoy the view!
The JMO October 2012
______________________________________________________________________________________________
The JMO in the morning of December 2, 2010
Venus and the Moon