The Sun with Sunspots on 9/27/2010
Here is a picture of 3 craters on the Moon. It was taken with the LPI camera on October 15, 2010 at about 9:00 PM. This is a prominent crater trio of Ptolemaeus, Alphonsus, and Arzachel. These craters are next to Mare Nubium.
Have you been wondering, what is that bright object up in the southeast sky at night? Well, it is Jupiter. Here is a picture from the LPI camer at the JMO on October 15, 2010 at about 9PM.
What Is New at NASA

Normal 0 false false false MicrosoftInternetExplorer4
NASA Comet Hunter Spots Its Valentine
On Valentine'sDay (Feb. 14 in U.S. time zones), Stardust will fly within about 200 kilometers(124 miles) of the comet's nucleus.
Here are five facts you should know about NASA's Stardust-NExT spacecraft as it prepares for a Valentine's "date" with comet Tempel 1. Feel free to sing along!
1. "The Way You Look Tonight" - The spacecraft is on a course to fly by comet Tempel 1 on Feb. 14 at about 8:37 p.m. PST (11:37 p.m. EST) -- Valentine's Day. Time of closest approach to Tempel 1 is significant because of the comet's rotation. We won't know until images are returned which face the comet has shown to the camera.
2. "It's All Coming Back To Me Now" - In 2004, Stardust became the first mission to collect particles directly from a comet, Wild 2, as well as samples of interstellar dust. The samples were returned in 2006 via a capsule that detached from the spacecraft and parachuted to the ground at a targeted area in Utah. Mission controllers then placed the still-viable Stardust spacecraft on a flight path that could reuse the flight system, if a target of opportunity presented itself. Tempel 1 became that target of opportunity.
3. "The First Time Ever I Saw Your Face" - The Stardust-NExT mission will allow scientists for the first time to look for changes on a comet's surface that occurred after one orbit around the sun. Tempel 1 was observed in 2005 by NASA's Deep Impact mission, which put an impactor on a collision course with the comet. Stardust-NExT might get a glimpse of the crater left behind, but if not, the comet would provide scientists with previously unseen areas for study. In addition, the Stardust-NExT encounter might reveal changes to Tempel 1 between Deep Impact and Stardust-Next, since the comet has completed an orbit around the sun.
4. "The Wind Beneath My Wings" - This Tempel 1 flyby will write the final chapter of the spacecraft's success story. The aging spacecraft approached 12 years of space travel on Feb. 7, logging almost 6 billion kilometers (3.5 billion miles) since launch. The spacecraft is nearly out of fuel. The Tempel 1 flyby and return of images are expected to consume the remaining fuel.
5. "Love is Now the Stardust of Yesterday" - Although the spacecraft itself will no longer be active after the flyby, the data collected by the Stardust-NExT mission will provide comet scientists with years of data to study how comets formed and evolved.
This is Venus on October 11, 2010 at 2:30 PM
This picture of Venus was taken on Nov 11, 2010 at about 2:00 PM. What is difference about this picture than the one taken in October?
See Saturn in the morning sky. Look Southeast!
Saturn looks like a bright golden star. It spends the entireyear in the constellation Virgo, the virgin. Saturn is at its best in lateMarch, when it's closest to Earth. It disappears behind the Sun in September,then returns to view in the morning sky in late October.
So now we can see it!
Saturn on November 3, 2010 at 7:30 AM.
Adorned with thousands of beautiful ringlets, Saturn isunique among the planets. All four gas giant planets have rings - made ofchunks of ice and rock - but none are as spectacular or as complicated asSaturn's. Like the other gas giants, Saturn is mostly a massive ball ofhydrogen and helium.
Bolden, Lindsey Mark Discovery's Successful Flight
Wed, 09 Mar 2011

About two hours after space shuttle Discovery's final return from space, the crew of the shuttle and NASA officials took a few moments on the runway at NASA's Kennedy Space Center in Florida to mark the spacecraft's accomplishments. Discovery spent a year in space during the course of its 39 missions, the first of which launched in August 1984. This shuttle carried NASA's Hubble Space Telescope into orbit and made both of the shuttle program's return-to-flight missions. Its roster of astronauts includes Charles Bolden, now administrator of the space agency.
R2 Goes into Space
Normal 0 false false false MicrosoftInternetExplorer4
It's not science fiction. A humanoid robot is headed to space on the shuttle Discovery. Additionally, fascinating research and technology is also aboard with 5 investigations for the crew to perform and 24 studies with hardware or samples.
Robonaut 2, or R2, was developed jointly by NASA and General Motors. The300-pound R2 consists of a head and a torso with two arms and two hands.
Normal 0 false false false MicrosoftInternetExplorer4
Anoka-Hennepin + NASA= out of this world opportunity
NASA is sponsoring an educator workshop 9 a.m. to 2 p.m.Saturday, March 19, at Jackson Middle School in Champlin. The workshop putsteachers in touch with current and upcoming space missions and relevantclassroom connections.
It is free to all Anoka-Hennepin teachers. There is a $25charge for teachers from outside the district.
"On site, we'll be doing educational activities thatteachers can use in their classrooms," said Dee McLellan, observatorycoordinator at Jackson Middle School.
For example, one activity McLellan planned after a Feb. 14rendezvous between a NASA satellite and a comet is a lesson on stereo pairs.Students will download photos of the comet (which NASA previously shot aprojectile into to create a crater) and create stereo images to view them in3D. Students will have an opportunity to share their observations with thescientists who are studying the comet.
NASA has plans for a variety of robotic missions thatteachers can incorporate into lessons using NASA materials. March 19 is anopportunity to hear about many of them and make plans to incorporate them intolessons for students.
For more information, contact McLellan atDeLaura.McLellan@anoka.k12.mn.us. To register for the day, teachers canregister at http://dawn.jpl.nasa.gov/discovery/thrill_of_discovery.asp.
JMS students from Ms Hoilad and Ms Schendel's classes
See these pictures at www.nasa.gov
Normal 0 false false false MicrosoftInternetExplorer4
The earliest Endeavour could be launched on the STS-134 mission is Tuesday, May 10.

Technicians at NASA's Kennedy Space Center's Launch Pad 39A removed the Load Control Assembly-2 (LCA-2) box in the orbiter's aft compartment last night. Teams are evaluating data from inspections and will install a new LCA-2 after evaluations and any repairs, if needed, have been made.

Managers will continue to evaluate the repair process and make any additional adjustments before scheduling Endeavour's next launch attempt for its STS-134 mission to the International Space Station.


Normal 0 false false false MicrosoftInternetExplorer4
Normal 0 false false false MicrosoftInternetExplorer4
METEORS FROM HALLEY'S COMET:
Earth is about to pass through a stream of dusty debris fromHalley's Comet, source of the annual eta Aquarid meteor shower. Forecastersexpect the shower to peak on May 6th. Sky watchers who lookduring the dark hours before dawn on Friday could see between 10 and 40 meteorsper hour.

Space Shuttle Era Ends with Atlantis Landing

Space shuttle Atlantis touched down on the Shuttle Landing Facility's Runway 15 at 5:57 a.m. EDT on July 21. After 200 orbits around Earth and a journey of 5,284,862 miles, the landing at NASA's Kennedy Space Center in Florida brought to a close 30 years of space shuttle flights.

"Although we got to take the ride," said Commander Chris Ferguson on behalf of his crew, " we sure hope that everybody who has ever worked on, or touched, or looked at, or envied or admired a space shuttle was able to take just a little part of the journey with us."

The STS-135 crew consisted of Commander Chris Ferguson, Pilot Doug Hurley, Mission Specialists Sandra Magnus and Rex Walheim.
Mars, Jupiter, Venus and Mercury are aligning in the eastern sky for a spectacular dawn conjunction.May 9, 2011
NASA's Jupiter-Bound Juno Spacecraft Ready For Launch

NASA's Juno spacecraft passes in front of Jupiter in this artist's depiction. The Juno mission is the first of NASA's three planetary missions launching this year, making 2011 one of the busiest ever in planetary exploration.
The spacecraft is to lift off at 11:34 a.m. on Aug. 5 from Space Launch Complex 41 at Cape Canaveral Air Force Station in Florida. The mission faces a limited launch window to get off Earth before Jupiter's orbit took it out of alignment.

After arriving at Jupiter in August 2016, the spacecraft will spend about a year surveying Jupiter and its moons to draw a detailed picture of its magnetic field and find out whether there is a solid core beneath its multi-colored clouds.
NASA Launches Mission to Study Moon From Crust to Core
A United Launch Alliance (ULA) Delta II rocket carrying the Gravity Recovery and Interior Laboratory (GRAIL) spacecraft for NASA lifted off from Space Launch Complex (SLC)-17B here at 9:08 a.m. EDT today. Image credit: Thom Baur, United Launch Alliance
› Full image and caption

CAPE CANAVERAL, Fla. -- NASA's twin lunar Gravity Recovery and Interior Laboratory (GRAIL) spacecraft lifted off from Cape Canaveral Air Force Station in Florida at 9:08 a.m. EDT (6:08 a.m. PDT) Saturday, Sept. 10, to study the moon in unprecedented detail.
GRAIL-A is scheduled to reach the moon on New Year's Eve 2011, while GRAIL-B will arrive New Year's Day 2012. The two solar-powered spacecraft will fly in tandem orbits around the moon to measure its gravity field. GRAIL will answer longstanding questions about the moon and give scientists a better understanding of how Earth and other rocky planets in the solar system formed.
"If there was ever any doubt that Florida's Space Coast would continue to be open for business, that thought was drowned out by the roar of today's GRAIL launch," said NASA Administrator Charles Bolden. "GRAIL and many other exciting upcoming missions make clear that NASA is taking its next big leap into deep space exploration, and the space industry continues to provide the jobs and workers needed to support this critical effort."
The spacecraft were launched aboard a United Launch Alliance Delta II rocket. GRAIL mission controllers acquired a signal from GRAIL-A at 10:29 a.m. EDT (7:29 a.m. PDT). GRAIL-B's signal was received eight minutes later. The telemetry downlinked from both spacecraft indicates they have deployed their solar panels and are operating as expected.
"Our GRAIL twins have Earth in their rearview mirrors and the moon in their sights," said David Lehman, GRAIL project manager at NASA's Jet Propulsion Laboratory in Pasadena, Calif. "The mission team is ready to test, analyze and fine-tune our spacecraft over the next three-and-a-half months on our journey to lunar orbit."
The straight-line distance from Earth to the moon is approximately 250,000 miles (402,336 kilometers). NASA's Apollo moon crews needed approximately three days to cover that distance. However, each spacecraft will take approximately 3.5 months and cover more than 2.5 million miles (4 million kilometers) to arrive. This low-energy trajectory results in the longer travel time. The size of the launch vehicle allows more time for spacecraft check-out and time to update plans for lunar operations. The science collection phase for GRAIL is expected to last 82 days.
"Since the earliest humans looked skyward, they have been fascinated by the moon," said GRAIL principal investigator Maria Zuber from the Massachusetts Institute of Technology in Cambridge. "GRAIL will take lunar exploration to a new level, providing an unprecedented characterization of the moon's interior that will advance understanding of how the moon formed and evolved."
JPL, a division of the California Institute of Technology in Pasadena, manages the GRAIL mission. It is part of the Discovery Program managed at NASA's Marshall Space Flight Center in Huntsville, Ala. Lockheed Martin Space Systems in Denver built the spacecraft. Launch management for the mission is the responsibility of NASA's Launch Services Program at the Kennedy Space Center in Florida
More information about GRAIL is online at: http://www.nasa.gov/grail and http://grail.nasa.gov .
Jackson Middle School Observatory adds planetarium and
Wednesday, September 7th, 2011
Jackson Middle School (JMS) students will have the opportunity to further study the many wonders of the solar system with the addition of a planetarium to the school's Observatory. In her second year as the Observatory coordinator, Dee McLellan is excited about the new addition.
"We can now operate on cloudy days to look at the sky," McLellan said. "We can use the planetarium to go forward and back in time in the universe, visit the Milky Way and in general do more than just look through the telescope."
McLellan, a National Aeronautics and Space Administration (NASA) solar system educator has another surprise in store for students: lunar samples from the Apollo Missions. Apollo set major milestones in human spaceflight. It stands alone in sending manned missions beyond low Earth orbit, Apollo 8 was the first manned spacecraft to orbit another celestial body, while Apollo 17 marked the last moonwalk and the last manned mission beyond low Earth orbit. The program spurred advances in many areas of technology incidental to rocketry and manned spaceflight, including avionics, telecommunications, and computers.
McLellan will have the lunar samples for two weeks. She will use them during lessons about an upcoming lunar mission that will study the gravity of the moon and map its surface. McLellan hopes the lunar samples will inspire students to learn more about what is happening in space. It's exciting for JMS to have the opportunity to have the samples on hand.
"They are one of our national treasures," McLellan said. Because the material is irreplaceable, McLellan must keep the samples with her at all times. When she is not at work, McLellan delivers the samples to the Champlin Police Department where they are kept under lock and key.
Another addition on display at the Observatory is a parachute from NASA's Genesis mission. The mission observed the solar wind, entrapped its particles and returned them to Earth. The Genesis capsule's return to Earth was planned as a mid-air recovery, and Hollywood stunt pilots were hired to attempt to capture the capsule as it parachuted to a landing at the Utah Test & Training Range.
The parachute at JMS was used during a practice exercise. McLellan was able to obtain the parachute through her work with NASA. Using the story of the Hollywood stunt pilots being hired to capture the capsule as it returned from space, McLellan teaches students that not everyone has to be an astronaut to work for NASA. There are many other opportunities to work with the organization.
The Observatory has also added 40 iPads for student use. They include astronomy software students can use during class and as a way to access A-H Connect for assignments.
The public is invited to visit the JMS Observatory on Sept. 12 and 26 at 8 p.m. The viewings are free. For more information, click here.
http://www.anoka.k12.mn.us/education/components/whatsnew/default.php?sectiondetailid=233410&itemID=37483
NASA began a historic voyage to Mars with the Nov. 26 launch of the Mars Science Laboratory, which carries a car-sized rover named Curiosity.

NASA's Deep Space Network antenna in Goldstone, Calif. has captured new radar images of Asteroid 2005 YU55 passing close to Earth. The space rock will make its closest approach to Earth on Nov. 8 at 5:28 p.m. CST. The trajectory of asteroid 2005 YU55 is well understood. At the point of closest approach, it will be no closer than 201,700 miles (324,600 kilometers) or 0.85 the distance from the moon to Earth.
The Kepler mission has confirmed its first planet in the "habitable zone," where water could exist on a planet's surface. The newly confirmed planet, Kepler-22b, is the smallest yet found to orbit in the habitable zone of a star similar to our sun.
COMET LOVEJOY IN THE MORNING: Noted astronomer John Bortle urges observers (especially in the southern hemisphere) to "begin searching for Comet Lovejoy's bright tail projecting up out of the morning twilight beginning at dawn. The tails of some of the major sungrazing comets have been extraordinarily bright. Comet Lovejoy's apparition has been so bizarre up to this point that it is difficult to anticipate just what might happen next ... [including] the exact sort of tail it might unfurl in the morning sky."
The morning of December 20, in New Zealand, Minoru Yoneto photographed the ghostly tail of Comet Lovejoy shining through the twilight: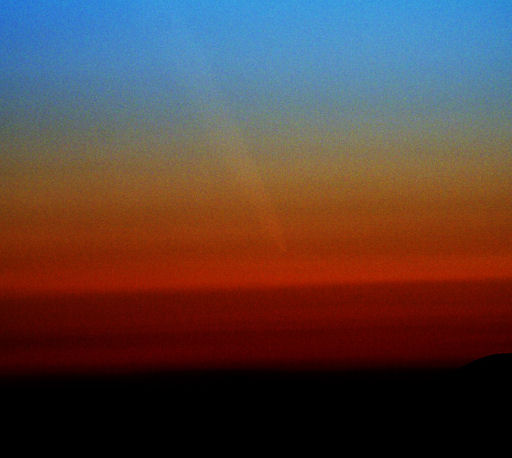 "I couldn't see the comet with my naked eye, but a 1.3 sec exposure with my Canon Kiss X2 digital camera revealed Lovejoy's long tail."
SPIRAL COMET TAIL: As Comet Lovejoy recedes intact from its Dec. 16th close encounter with the sun, researchers are pondering a mystery: What made the comet's tail wiggle so wildly in transit through the sun's atmosphere? The effect is clear in this sequence of extreme UV images recorded by NASA's STEREO-B spacecraft: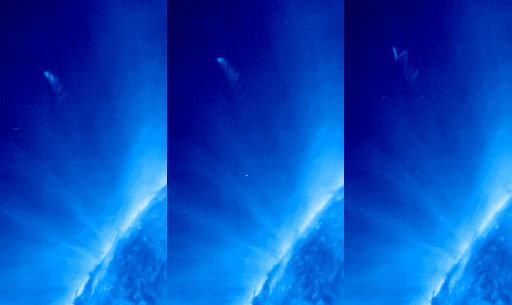 "Why the wiggles?" wonders Karl Battams of the Naval Research Lab. "We're not sure. There might be some kind of helical motion going on. Perhaps we're seeing material in the tail magnetically 'clinging' to coronal loops and moving with them. [Coronal loops are huge loops of magnetism that emerge from the sun's surface and thread the sun's atmosphere.] There are other possibilities too, and we will certainly investigate those!"
Battams notes that these images can be combined with similar images from STEREO-A on the other side of the sun to produce a three dimensional picture. "When we pair these together, and throw in the SDO images too, we should be able to get an incredibly unique 3-D picture of how this comet is reacting the the intense coronal heat and magnetic loops. We are going to learn a lot."
NASA Astrobiology Educator Workshop: Exploring the Origin of Life

http://abscicon2012.arc.nasa.gov/teacherworkshop/

When: Saturday, April 21, 2012 8:30 AM - 2:00 PM
Locations:
Jackson Middle School Observatory
6000 109th Avenue N
Champlin, Minnesota 55316
Georgia Institute of Technology in Atlanta and 5 satellite sites across the US
The main workshop will be held on the Georgia Tech campus with seven satellite locations. Each workshop will include demonstrations of hands-on activities, educational resources, and best practices for facilitating astrobiology content.
Who is Eligible to Participate: The workshop will focus on formal educators, but informal educators are also welcome. Astrobiology is an interdisciplinary endeavor, so whether you teach integrated science or something more specialized like chemistry, biology, physics, astronomy, earth science, etc., this workshop is for you! The content and activities presented will align mostly with middle school standards, but teachers working at all grade levels are welcome and are invited to consider how to gear the material up or down.
To register to attend send the following information to Dee McLellan
Your first and last name:
Address (address, city state, zip code):
Email Address:
Second Email Address (preferably not school):
Phone (in case needed to follow up on DVD mailing):
School and Grade(s) taught:
Any experience teaching Astrobiology:
May 20, 2012 - Partial Eclipse of the Sun
On the 20th, we're treated to a partial eclipse of the sun. The show begins at approximately 7:15 p.m., and the sun will set while still in a state of partial eclipse. A little more than half its surface will be covered by the moon. The usual warnings about solar eclipses apply: do not look at the sun without proper protection. If you're unsure-don't look. The safest way to view a solar eclipse is with a pinhole camera-or on TV.
Venus Transits the Sun on June 5th


Taken with the Jackson Middle School Observatory Telescope

June 5, 2012

This will not happen again for over 100 years!

Watch on KARE 11 -

http://www.kare11.com/video/default.aspx?bctid=1675571736001&odyssey=mod|tvideo|endslate
June 5
Venus will move across the face of the Sun this afternoon, staging a rare event known as a transit. Venus will transit the face of the Sun late today. The planet will look like a small black dot slowly creeping across the Sun's northern hemisphere. It will be visible across the entire United States, but you need eye protection to view it. Transits occur in pairs separated by eight years. The first transit of this pair took place in 2004. The next transit won't occur until 2117.
Normal 0 false false false MicrosoftInternetExplorer4
After 30 years and more than 100 missions launching observatories and building the space station, the shuttle's mission is complete.
Now that the Space Shuttles are retired, what will NASA do next?
True, NASA is no longer flying the big truck. But,

For every day over the last decade there has been one to three Americans living and working in space on the International Space Station, 4,000 straight days as of Sunday, October 16, 2011.
For every day for the next decade there will be one to three Americans living and working in space on the International Space Station. (http://www.nasa.gov/mission_pages/station/main/index.html) (Today it is Mike Fossum, joined by Sergei Volkov and Satoshi Furukawa. Dan Burbank and two cosmonauts are set to join them mid-November.)
There are four space vehicles capable of visiting ISS (Soyuz, Progress, ESA's Automated Transfer Vehicle and Japan's H-2 Transfer Vehicle).
Several private companies are vying for work to deliver cargo and, eventually crew, to and from ISS. SpaceX may fly its Dragon spacecraft to rendezvous and dock with ISS before the end of this year. Orbital Science's Cygnus spacecraft may have a test flight before the end of the year as well.
At this moment there are robotic spacecraft in orbit around eight different planetary bodies (Sun, Mercury, Venus, Earth, Moon, Mars, Saturn and Vesta). (Note that the ESA's Venus Express is not a NASA mission but there is some NASA support.) Three additional spacecraft (Voyagers and New Horizons) are on solar system escape trajectories.

There is a mission on the way to orbit Jupiter (Juno) and the Grail twins are on the way to the Moon.

There are three operational spacecraft in orbit around Mars and an operating rover on the surface (Opportunity).
NASA's Science Mission Directorate lists 63 operational spacecraft and 36 space missions under development. (http://science.nasa.gov/missions/)

JPL has 39 missions and instruments

in some stage of the mission life-cycle. (These are either already in flight or being prepared; it does not include future competitions or hoped-for missions.) (http://projectsupport/project_info/proj_summary.cfm and http://projectsupport/project_info/search_by_phase.cfm; also, from JPL Space search for "Bar Charts" for a lot of detail.)
NASA has a robust program of exploration, technology development and scientific research that will last for years to come.
Rover Leaves Tracks in Morse Code
Reading the Rover's Tracks
The straight lines in Curiosity's zigzag track marks are Morse code for JPL, which is short for NASA's Jet Propulsion Laboratory in Pasadena, Calif., where the rover was built and the mission is managed.
NASA rocket scientist Bobak Ferdowsi, who gained fame with his red, white and blue Mohawk, now has had the Morse code for J-P-L cut into this hairdo, in tribute to the Jet Propulsion Laboratory and Curiosity's Morse-code wheel track.

Neil Armstrong, the first man to walk on the moon during the 1969 Apollo 11 mission, has died.
He was 82.

"Neil Armstrong was also a reluctant American hero who always believed he was just doing his job," said a statement from his family.

Sally Ride, the first American woman in space, has passed away.

Ride's contribution to America's space program continued right up until her death at age 61 this week. After two trips to orbit aboard the shuttle, she went on an award-winning academic career at the University of California, San Diego, where her expertise and wisdom were widely sought on matters related to space.
Below, astrophotographer John Chumack of Dayton, Ohio, offers "some tips for capturing your keepsake photo." Follow his recipe to take a picture like this: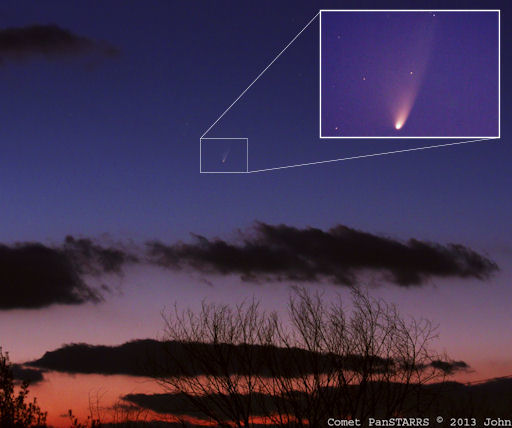 "Find a low west-northwest horizon," he advises. "Be ready before sunset, so you can mark the horizon where the sun set as a reference to find the comet. A digital camera with manual settings is all you need to photograph Pan-STARRS. Try 1 to 30 second exposures at ISO settings ranging from 400 to 1600, about 30 to 45 minutes after sunset. The twilight fades fast, so increase your ISO and exposure time to compensate."
Russian Meteor
On Friday, February 15th at 9:30 am local time in Russia, a small asteroid struck the atmosphere over the city of Chelyabinsk and exploded. According to reports from news organizations and Russian authorities, as many as 1000 people received minor injuries from the shock wave. This is the most energetic recorded meteor strike since the Tunguska impact of 1908.
Note: In the following paragraph, bold-faced numbers were updated on Feb. 17th to reflect new and improved estimates of the asteroid's size and energy. It was even bigger than we thought!
Researchers have conducted a preliminary analysis of the event. "Here is what we know so far," says Bill Cooke, head of NASA's Meteoroid Environment Office. "The asteroid was about 17 meters in diameter and weighed approximately 10,000 metric tons. It struck Earth's atmosphere at 40,000 mph (18 km/s) and broke apart about 12 to 15 miles (20 to 25 km) above Earth's surface. The energy of the resulting explosion was in the vicinity of 500 kilotons of TNT."
A new ScienceCast video reviews what researchers have learned about the Russian meteor.
Play it
"A shock wave propagated down and struck the city below, causing large numbers of windows to break, some walls to collapse, and minor damage throughout the city," he continued. "When you hear about injuries, those are undoubtedly due to the effects of the shock wave, not due to fragments striking the ground. There are undoubtedly fragments on the ground, but as of this time we know of no recovered fragments that we can verify."
So how can we tell that the Russian meteor isn't related to asteroid 2012 DA14?

One way is to look at meteor showers -- the Orionids all have similar orbits to their parent comet, Halley. Similarly, the Geminids all move in orbits that closely resemble the asteroid 3200 Phaethon, which produced them. So if the Russian meteor was a fragment of 2014 DA14, it would have an orbit very similar to that of the asteroid.

It does not...


If you look at the image, the orbit of the Earth is the green circle. That of 2012 DA14 is the blue ellipse that is almost entirely within the orbit of the Earth; notice that it is close to circular. The other blue ellipse, stretching way beyond the orbit of Mars, is the first determination of the orbit of the Russian meteor. Notice that the two are nothing alike; in fact, they aren't even close.
This is one reason -- a big one -- why NASA says the asteroid 2012 DA14 are not connected.
Now why would a reading strategies class visit an observatory?
Well, quite simply to give students something real to read about. In this issue we are happy to feature a wonderful example of teacher collaboration.
The GRAIL MoonKAM Newsflash will keep you up to date with information about the GRAIL mission and lunar science as well as provide resources for teachers.


September 2012
In this issue:
Teacher Feature: Jan Schendel and Dee McLellan
The GRAIL Team: Marjorie Raymond
MoonKAM Image Worksheet
and more...
https://moonkam.ucsd.edu/resources/newsletters

Engineers at NASA's Jet Propulsion Laboratory in Pasadena, Calif., have received confirmation that the twin GRAIL spacecraft have, as planned, completed their impact into the moon.

The two probes were sent purposely into the moon because they no longer had enough altitude or fuel to continue science operations. 


The Sunspots up close